Joris Bosman - tenor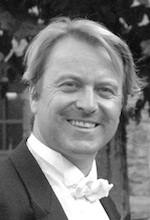 Joris Bosman started playing the piano at the age of seven. Once at high-school in Aalst he entered the 'Scola Cantorum Cantate Domino' under the direction of Michael Ghijs. A new passion, the one for singing was born. During this period he obtained two medals "cum maxima Laude" as a young pianist and the Medal of the Government as a young performer overall.
He graduated as a pianist under professor Alan Weiss (Finalist at the Elisabeth competition in 1978) and as a singer under the outstanding help of several teachers in Belgium, Germany, England and The Netherlands. He obtained several diplomas such as the Master Degree in art-song, oratorium and opera.
Under the direction of some great conductors such as Erik Van Nevel, Paul Dombrecht, Sigiswald Kuijcken, Pierre Cao (Luxembourg), Florean Heyerick, Guy Janssens, Dirkjan Horringa (NL), J. Griffith (GB), ... he became a well-known performer in renaissance and most of all baroque repertoire. He took Masterclasses with Peter Schreier, Christoph Prégardien and Anthony Rolfe Johnson.
He sings as a soloist in Europe and beyond and gave Masterclasses in Brescia (Italy) with the release of a CD on Luca Marenzio. He is known as a refined performer of Bach's Cantates, Haendel's Oratorios and Mozarts' Requiem, Haydn's Stabat Mater and 'The Creation'.
He performed the roles of Ferrando (Cosi fan Tutte), Pedrillo (Entführung Aus dem Serail), Don Basilio (Le Nozze di Figaro) in Mozart's Operas, Alfred in Richard Strauss' 'Fledermaus', Alfredo in La Traviata, and others in the repertoire of Fr. Léhar. He performed more than 20 different premium roles in 'operetta', german as well as french. Last season he played 'Pluto' in 'Orphée aux Enfers' of J. Offenbach and 'Lotteringhi' in Von Suppe's 'Boccaccio'.
He was invited to perform on several festivals such as the Summer-festivals of Stavelot, Spa, Malmédy and Brussels (Belgium), and Abbeville and Vaux de Cernay in France, and also in Spain, Poland and Germany.
Next to his activities as a performer, he's working as a vocal coach in the 'Academy of Music and Dance August de Boeck' in Brussels.