Joëlle Charlier - mezzo-soprano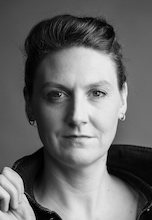 Joëlle Charlier first studies at the Conservatoire Royal of Mons with Thierry Migliorini. She then completes her training at the Conservatorium Maastricht with Axel Everaert. From 2007 to 2009, she takes part in the International Lied Master Classes with Udo Reinemann in Brussels.
She regularly performs as a soloist in the oratorio and opera repertoires with different ensembles such as the Chapelle des Minimes, Choeur de Chambre de Namur, Klassische Philharmonie Bonn, Ochestre Philharmonique de Liège,
In the opera repertoire, she appears as Jacqueline in Le médecin malgré lui - Gounod (Royaumont production), in the title-roles of La Périchole, La Grande Duchesse de Gerolstein, La Belle-Hélène - Offenbach in Brussels, as Fragoletto in Les Brigands - Offenbach (Oper Aachen), in L'Enfant et les sortilèges - Ravel (Liège), as Irma in the adaptation of Les Bijoux de la Castafiore, as Gertude in Romeo et Juliette - Gounod, as Mercedes in Carmen - Bizet. She makes her debut at the Opera Royal de Wallonie as Mary in Der Fliegende Holländer - Wagner, and her debut at the Flemish Opera as Blumenmädchen in Parsifal - Wagner, Magd in Elektra - Strauss.
Recently, she sang Hannah in La Lumière Antigone (Nouvel Ensemble Contemporain - Switzerland) en Tirésia in Nous sommes éternels (Opera Metz), both operas of the belgian composer Pierre Bartholomée.
Laureate of the International Singing Competition of Kammeroper Schloss Rheinsberg, she performs the role of Sophie Dorothea in Sigfried Matthus's opera Kronprinz Friedrich.
As finalist of the Armel Opera Competition, she sang the role of Jocasta in Stravinsky's Oedipus Rex in Hungary and Poland. She won the first prize at the "Concours international d'opérette et d'opéra-comique" de l'UPMCF in Paris.
Joëlle Charlier joins often the choir of La Monnaie, of the Flemish Opera, the Choeur de Chambre de Namur and the Vlaams Radio Koor.
During 2021/2022, she sings the role of Emeline in the music-theater piece King Arthur based on Purcell's opera (Sofia Betz - Compagnie Dérivation), the roles of the witches in Humperdinck's Doornroosje (Brussels Operette Theater) and Hans en Grietje (schoolshow - Opera Caramba). She joins Ensemble Eyas.