Isabelle Everarts de Velp - mezzo-soprano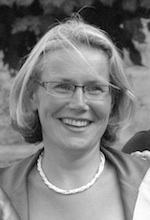 Mezzo-soprano Isabelle Everarts studied at the Conservatory of Liège and at the Royal Conservatory of Brussels and obtained her Master Degrees for oratorio, art-song and drama.
She became a soloist at the Royal Opera House of Brussels (de Munt) and was soon invited to perform in the cities of Madrid, Lissabon, Lille, Caen, Poitiers, Maastricht, New-York, ...
Major international conductors invited her as there are René Jacobs, Marcello Viotti, Patrick Davin, Pascal Rophé, Rainy Calderon, Peter Van Heygen, Leonardo Garcia Alarcon, ...
But also oratorio is part of her repertoire. So she shines in Bach's Magnificat, the Christmas Oratorio and in Saint John's Passion and in Beethoven's Missa in C, and in Michael Haydn's Requiem.
The Ensemble Quartz invited her to perform in 'de Fabels van La Fontaine'.